TRANS> Launches THESE TIMES, a Printed and Digital Stamp Project by 50 Artists and Institutions curated by
Sandra Antelo-Suarez
The printed artworks will be distributed in the October 2020 issue of frieze magazine and the participating institutions.
September 21, 2020
New York, New York
Non-profit arts organization TRANS> is pleased to launch THESE TIMES, a print and digital stamp project with contributions by 50 artists and 50 institutions. Curated by TRANS> founder Sandra Antelo-Suarez, the project is in response to the global pandemic and follows a call to artists to create artworks formatted in the design of postage stamps as a gesture that unites communities across New York City, Ibero-America, Spain, and Portugal. The 50 submitted stamp artworks from THESE TIMES will be distributed in the October 2020 issue of frieze magazine, bringing art directly into homes, and posted digitally on the THESE TIMES Instagram account @these.times.forever.
"I saw the devastation in New York and across Ibero-America, especially the disproportionate impact the pandemic has had on our culture and artistic communities, and wanted to find a way to bring artists and thinkers together to create a space for grief, but also for hope and action," says THESE TIMES curator Sandra Antelo-Suarez.
THESE TIMES acts as a tribute and gesture of love, grief, and solidarity for the lives lost to COVID-19 and those facing difficulty in the current times. The stamps, marked with a symbolic currency of love, function as individual stickers that encourage poetic gestures of communication, especially crucial in this global moment that has deeply affected our communities. At its core, the format of a stamp evokes the connection found through sending letters. Beyond exploring this sense of interconnectedness, this project presciently underscores the link between voting through mail as a form of direct action, self-expression, and self-determination. To invite further collaboration, TRANS> invites everyone to submit their own designs on social media with the hashtag #TheseTimesForver and by visiting transmag.org
Each stamp artwork created for THESE TIMES features an original design with the name of the artist, the art institution or gallery where the artist currently has or had an exhibition, and the country. The 1.3 x 1.3 inch stamps include text in Spanish, English, and Portuguese.
OUR CIVIC DUTY TO VOTE IS ONE OF THE POWERS WE HOLD TO END INEQUALITIES AND INJUSTICES IN THE WORLD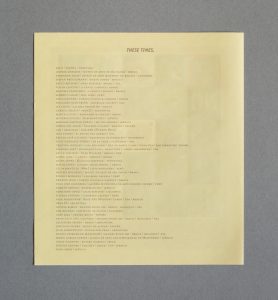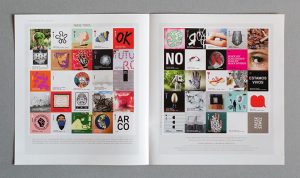 Photos by Pablo Gómez-Ogando
THESE TIMES artists and institutions
arco | españa | portugal
leonor antunes | museu de arte de são paulo | brasil
fernando arias | museo de arte moderno de bogotá | colombia
stefan brüggemann | museo jumex | méxico
paulo bruscky | nara roesler | brasil | usa
vivian caccuri | a gentil carioca | brasil
marcela cantuária | a gentil carioca | brasil
alberto casari | mac lima | perú
leda catunda | fortes d'aloia & gabriel | brasil
feliciano centurión | americas society | usa
lia chaia | galeria vermelho | brasil
gabriel chaile | proa21 | argentina
marcelo cipis | bergamin & gomide | brasil
minerva cuevas | kurimanzutto | méxico
mariana castillo deball | museo amparo | méxico
can | embajada | borikén (Puerto Rico)
luis flores | el museo del barrio | usa
regina josé galindo | proyectos ultravioleta | guatemala
felix gonzalez-torres | de la cruz collection | usa
cristina iglesias | casa del faro | isla de santa clara | donostia | san sebastián | españa
leandro katz | henrique faria, herlitzka + faria | argentina | usa
artur lescher | Nara Roesler | brasil | usa
laura lima | a gentil carioca | brasil
diana lópez | @accionlibertad | venezuela
mateo lópez | galeria luisa strina | brasil
gilda mantilla | 80m2 livia benavides | perú
beatriz milhazes | museu de arte de são paulo | brasil
wynnie mynerva | ginsberg galeria | perú
ernesto neto | fortes d'aloia & gabriel | brasil
juan josé olavarría | galería municipal de arte pancho fierro | perú
damián ortega | kurimazutto | méxico
bernardo ortiz | casas riegner | colombia
silvana pestana | ginsberg galeria | perú
gala porras-kim | Rose Art Museum | Labor | usa | méxico
proa 21 | argentina
leticia ramos | mendes wood dm I brasil | belgique | usa
ana roldán | instituto de visión | colombia
anri sala | centro botín | españa
francesco joão scavarda | mendes wood dm | brasil | belgique | usa
alejandra seeber | barro | argentina
santiago sierra | helga de alvear | españa
teresa solar | Travesía Cuatro | méxico | españa
juan sorrentino | fundación proa | argentina
daniel steegmann mangrané | mendes wood dm I brasil | belgique | usa
mario garcia torres | museo de arte contemporaneo de Monterrey | méxico
oriol vilanova | kotaro nukaga | japan
héctor zamora | the met | labor | usa | méxico
zona maco | méxico
THESE TIMES Team
Curator: Sandra Antelo-Suarez
In cooperation with Ana Sokoloff
Graphic Design: MattDeFrain, Florencia Lechin, Ana Winograd
THESE TIMES is made possible through the support of Eugenio López and Fundación Jumex Arte Contemporaneo. Additional support is provided by Federico Gonzalez Daboin, Eduardo and Mariana Hochschild, Alexia Hochschild Correa, Dani and Mirella Levinas, Luis Pérez Oramas, Claudia Pareja, Adriana Rosenberg, Eric Schimmel, and Vivian Pfeiffer. Special thank you to Patrick Charpenel, Rosa and Carlos de la Cruz, Cari Fernandez, Felix Gonzalez-Torres Foundation, Michy Marxuach, Isabela Mora, Esthella Provas and Melissa Wallen.
About TRANS>
THESE TIMES is a project of TRANS>, a non-profit organization based in New York City. Since its inception in 1995, TRANS> has located itself in a transitional space and through the mediums of art and culture, has designed new cartographies, subverted rigid codes and encourages unexpected dialogues. TRANS> believes in a tradition of multiple views and constant change. It responds to the immediate creative needs of artists and urgencies of the times. Among TRANS> projects are the journal TRANS> arts.cultures.media, Don't Trust Anyone over Thirty: Entertainment by Dan Graham, Tony Oursler and Rodney Graham, a 60 min. live rock-opera puppet concert and Smile Without a Cat: A Celebration of Anne Lee's Vanishing, a fire works project by Pierre Huyghe and Philippe Parreno.
About the Curator
Sandra Antelo-Suarez is a cultural engineer known for her editorial and curatorial projects. In 1995 Antelo-Suárez founded the non-profit organization TRANS> and the journal TRANS> arts.cultures.media, of which she was editorial director. The first interdisciplinary and multilanguage publication with a focus on the cultural contextualization of American cultures, TRANS> arts.cultures.media published seminal essays by Ernesto Laclau, Judith Butler, Juan Goytisolo, and Sylvère Lotringer; and discussions on art accompanied by published artwork, such as the TRANS> gum edition by Paul McCarthy, which served as the cover of TRANS> arts.cultures.media no. 8, 2000. In Nov 2017, she curated an unprecedented exhibition, "Kinetics of Violence: Cady Noland and Alexander Calder," at Venus Over Manhattan, New York. A book with the same title is forthcoming. In a review of the show, Andrea K. Scott of the New Yorker called Antelo-Suárez a "thoughtful curator."
In the past years Antelo-Suarez has engaged in a new reading of Calder curating "Alexander Calder: Theater of Encounter" at Fundación PROA, Buenos Aires, and has written extensively on Calder.
#TheseTimes #Stampsbyartists #Postagebyartists # LOVEstamps #TRANSmag #sandraantelosuarez #TheseTimesForever #VOTE #VotingIsDemocracy #SaveTheUSPS #TogetherMoreThanEver #SiempreUnidos
PRESS CONTACT
Third Eye
Anika Zempleni
anika@hellothirdeye.com
+1 402 499 6360
Tyler Mahowald
tyler@hellothirdeye.com
+1 347 831 3366
ALBERTO CASARI (b. Lima, Peru, 1955) #AlbertoCasari; It is a collage of images cropped and extracted from a magazine with colorful backgrounds of living nature and where a black background is juxtaposed and dominated.  At the heart of the work there is a light and it is this that speaks of hope. FOREVER indicates a possible exit road.Colors of the living nature, green, blue and orange, again a large part of the work immersed in darkness with a human image (?) lit in the dark, but a candle lit peeks to illuminate this dark part… there is hope. FOREVER indicates LIGHT. Recent exhibitions include 'Nosotros estamos aquí' at @museo_maclima curated by #GiulianaVidarte and 'Contingentes' at @wugaleria.
ALEJANDRA SEEBER (b. Buenos Aires, Argentina, 1969) @alejandraseeber_studio work has been described as having a dialogic approach to painting, where intentionality and random procedures, failings and acceptance operate together without hierarchy. She conceptualizes painting, not from historical references or social conventions but from a visual culture crossed by alternative rock, theatrical stage designs, musical shows, the city's underground, the digital softwares and the technological novelty in publicity characteristic of the end of the last century. Laying her eyes in domestic interiors, architecture and decorations, Seeber finds an image of the world that she rapidly blows up in stains and squirts that scatter through the canvas making it impossible to see the difference between in and out, between figures and abstraction. Recent exhibitions include 'La forma de la Boca' at @usinadelarte curated by @florencia.malbran and 'Getaways' and "Rather Ripped" at @hauslercontemporary. Ca-za Museo del Bronx, curated by Sofia Hernandez Chong Huy. Upcoming exhibitions include 'Fuera de serie' with @ledacatunda at @museomalba curated by #FranciscoLemus.
ANA ROLDÁN (b. Mexico City, Mexico, 1977) @naldorana; when I said "Have a look at my stamps" I was innocent. As everything yesterday – gardening, making preserves, knitting – is the new red, blue, yellow, I was confident you'd come. I honestly thought it would be about my stamp. Now I never know which knee is yours and which is mine. Recent exhibitions include 'Bewegung und Kunst' at @zugsports curated by @dorotheastrauss and 'Portadores de sentido' at @museoamparo curated by @cppcisneros and @pillihdz. Upcoming exhibitions include 'It's only moonlight' at @annex14.
ANRI SALA (b. Tirana, Albania, 1974) #AnriSala; By tying the insignia of revolution to a palindromic thought – the chicken and egg causality dilemma – the stamp aims at the uncertainties and the misgivings of these times. Recent exhibitions include 'AS YOU GO' at @fundacionbotin and 'AS YOU GO' at @castellodirivoli
ARCO From 24 to 28 February 2021, the world of contemporary art will celebrate ARCOmadrid's 40th Anniversary. ARCOmadrid 2021 will bring together a selection of the top international galleries that have been part of ARCOmadrid's journey since the beginning to participate in the central section of the fair on the occasion of its 40th anniversary: ARCO's 40th Anniversary (curated by María Inés Rodríguez; Sergio Rubira and Francesco Stocchi).
This tribute to ARCO is presented as a complement to the content that will be presented by the galleries selected by the Organising Committee to take part in the General Programme, and the participants in the Opening section, which will be selected by Övül Durmuşoğlu and Julia Morandeira.
ARTUR LESCHER. For more than thirty years, Artur Lescher (b. Sao Paulo, Brazil, 1962) @artur_lescher has presented solid work as a sculptor, researching on the articulation of materials, thoughts and forms. Although Lescher's work is strongly associated with industrial processes, through which he achieves extreme refinement and rigor, the purpose of his production goes beyond form. This contradiction leaves room for myth and imagination, which are essential elements for the construction of his minimal landscape. Recent exhibitions include 'Suspensão' at @Pinacotecaspaulo curated by #CamilaBechelany and 'Asterismos' at @Alminerech. Upcoming exhibitions include solo shows at @galerianararoesler and at @fundacaoibere.
BEATRIZ MILHAZES (b. Rio de Janeiro, Brazil, 1960) is characterised by sensual colour, optical movement and energetic visual cadences, fusing a diverse repertoire of images and forms. Her practice includes painting, collage collage and printmaking. Rigorously structured compositions are influenced by Henri Matisse, Wassily Kandinsky and Sonia Delaunay, as well as Brazilian modernists Tarsila do Amaral and Oswald de Andrade, and local culture, music and architecture. The result is a unique synthesis of indexes that merges high and low culture, art and craft. Recent exhibitions include 'Using Walls, Floors, and Ceilings' at @thejewishmuseum curated by @kellytaxter and 'Beatriz Milhazes: Jardim Botânico' at @pamm curated by @tobiasostrander. Upcoming exhibitions include 'Beatriz Milhazes: Avenida Paulista' at @masp and @itaucultural curated by @adrianopedrosa and #IvoMesquita.
BERNARDO ORTIZ (b. Bogota, Colombia, 1972) #BernardoOrtiz; An inbreeding of words that produce a surprisingly political (and imaginary) beast.
Bernardo Ortiz (n. Bogotá, Colombia, 1972); Un  apareamiento de palabras que produce una bestia política inimaginada.
Recent exhibitions include 'Baja Resolución' at @casasriegner and 'Amerikanische Lieder' at @siobhandaviesdance curated by #LaurenWright. Upcoming exhibitions include 'Untitled' at @havremagasinet curated by #MariangelaMendez.
CAN JORGE GONZALEZ (b. San Juan, Puerto Rico, 1981) @jigs_pr; practice involves the creation of mutual learning spaces as critical articulations in awareness of land, resources, and territory. Determined to build community regeneration, the project Escuela de Oficios, a collective work platform underlying his practice, promotes the work of indigenous knowledge holders of the Borikua archipelago. Currently, González is part of the efforts of Organización del Pueblo Can-Jíbaro de Boriké (CAN), an independent collective of indigenous cultural workers composed of community organizers, activists, thinkers, educators, agriculturists, and artists, to make accessible and politicize the perspectives of the indigenous peoples of Borikén and the Caribbean in all matters relevant to land and territory: colonization, worldview, reparations, history, spirituality, amidst others topics concerning the communities of the region. As a collective, CAN reaffirms their identity as Can-Jíbaros, descendants of the Serpent, with beliefs present among the Borikua Jíbaro people and their Caribbean siblings. Recent exhibitions include 'Abusos de las formas' curated by #MauricioMarcín and 'And other such stories' at @chicagoarchitecturebiennial curated by #YesomiUmolu #SepakeAngiama and #PauloTavares.
DAMIAN ORTEGA With his sense of wit and humor, Damián Ortega (b. Mexico City, 1967) @damianortegastudio deconstructs familiar objects and processes, altering their functions and transforming them into novel experiences and scenarios. Ortega's work plays with a scale that ranges from the molecular to the cosmic: for him, the work of art is always an action, an event. His experiments inhabit a space where possibility and the everyday converge, to activate a transcendent new way of looking at simple objects and routine interactions. Recent solo exhibitions include 'Porous Structures' at @gladstone.gallery, 'Estridentópolis at @adrianrosenfeldgallery in collaboration with @kurimanzutto and 'The Modern Garden' at @garagemca.
DANIEL STEEGMAN MANGRANÉ (b. Barcelona, Spain, 1977) @animal_que_no_existeix; practice encompasses a wide range of media, including film, sculpture, sound, gardens and drawing, delving into subtle, poetic but however raw experimentations that question the relationship between world and language. Although mainly conceptually informed, his installations engage the imagination of the spectator and display a strong concern with the existence and features of concrete objects.The artist is particularly interested in biological and morphogenetic processes, which he uses as inspiration for the creation of works that undermine the boundaries between organic and man-made aesthetics and the traditional separations between culture and nature, or between subjects and objects. Recent exhibitions include 'A Leaf Shaped Animal Draws The Hand' at @Pirelli_HangarBicocca curated by #LuciaAspesi and #FiammettaGirocoli.
DIANA LOPEZ (b.Philadelphia, 1968)  Venezuelan artist @studio.diana.lopez. Language defines, contains and manifests our connection with the environment. Language builds our identity, it is the mechanism that engages the variables of our personal and collective experience. Inverted Syllabary  is a photographic series produced in 2017 with mobile types formerly used to print texts, today they are objects in disuse.
Recent exhibitions : Referencias Cruzadas  @mac_panama, For Freedoms @hffanewyork, El mañana no existe @beatrizgilgaleria, Anti-Readymade @espaciomonitor, La locura más peligrosa de América #PanchoFierro
ERNESTO NETO. Since the beginning of his career Ernesto Neto (b. Rio de Janeiro, Brazil, 1964) has sought to challenge and expand the lexicon of sculpture, exploring formal and symbolic connections between different materials — polyamide, elastane, lead, spices, styrofoam, steel, among others — with the force of gravity as an underlying element. Lately he has turned to natural dye fabrics and wood, and embraced physical interaction as a fundamental aspect of his practice. The organic shapes of the works echo the forms and colors of living organisms. Neto's wearable sculptures and interactive installations activate the senses, inviting us to indulge in meditative states and reconnect with the sacred.
Recent exhibitions include 'Sopro' at @pinacotecasp curated by @valeria_piccoli and 'Ernesto Neto: Soplo' at @museumalba curated by @volzjochen and @valeria_piccoli. Upcoming exhibitions include 'Ernesto Neto: Soplo' at @ccplm curated by @volzjochen and @valeria_piccoli.
FELICIANO CENTURION (b. San Ignacio, Paraguay, 1962) #FelicianoCenturion; Blanket: everyday object, easily available, warmth, shelter, protection. Affective, sensorial support. The painting is another emotional charge, that translates feelings. Removed from its everyday context, the blanket becomes a support for painting, in itself an artistic object that, hanging on the wall, can make us recall ancient tapestries. It is essential that we "choose" the materials with which we work. Our consumer society offers us an infinite selection that we can "appropriate" to make "new objects" with which we can live. But once we decontextualize them, assemble them, paint them, or assail them, they reveal that they passed through our feelings. Consummated love. The eclecticism of our times, whose diversity of languages and information demand a deeper engagement from us, allows us to "appropriate" with complete freedom so that we can express ourselves. Recent exhibitions include 'Feliciano Centurión: Abrigo' at @americassociety.visualarts curated by @gperezbarreiro.
FELIX GONZALEZ-TORRES (b. Guáimaro, Cuba, 1957); The work of Felix Gonzalez-Torres is profoundly anchored to concepts of materiality, time, loss, regeneration, and generosity. #FelixGonzalezTorres @delacruzcollection
FERNANDO ARIAS 'I have to declare that Fernando Arias (b. Armenia, Colombia, 1963) @fernando.arias.artwork is one of the most irreverent, subversive, ironic, disenchanted, cynical, iconoclastic artists I have ever worked with – and those who know my curatorial practice will be aware of how much weight this statement carries. In the last thirty years, his radical, polemical, and transgressive work has faced the illusive borders between art and life, art and media, art and society, as well as art and activism, while often looking through the lens of a caustic irony at uncomfortable issues connected to trauma, the abject (J. Kristeva), diseased or damaged bodies, religion, politics, race, gender, LGBTQ+ rights, class, sex, but also to battles for social justice, against environmental exploitation, in support of oppressed subjects and minorities.' Text from @eugenioviola_official
FRANCESCO JOÃO SCAVARDA (b.Milan, Italy, 1987) @francescojoao; I want to talk about painting. What painting is? Francesco João Scavarda (n. Milan, Italia, 1987); Quero falar sobre pintura. O que è una pintura?Recent exhibitions include 'Francesco Joao' at @mendeswooddm and @Hot_Wheheels_Athens curated by @francescotenaglia.
GABRIEL CHAILE En las obras de Gabriel Chaile (n.Tucumán, Argentina, 1985) @soychaile; hay un cruce entre la antropología, la teología-religión y el arte en diferentes formas que se dejan atravesar por el sentido del humor, lo poético, lo simbólico y lo político. Le gusta pensarse como un comunicador de imágenes que llega a ellas a través de observaciones contextuales y para eso se toma a sí mismo y a su contexto como objeto de estudio. Recent exhibitions include 'Genealogía de la Forma' at @barro_cc curated by @andrei.fdz and  'Esta Canción ya tuvo aplausos' at @chertluedde.
GALA PORRAS-KIM (b. Bogota, Colombia, 1984) @itsgala My contribution is an image of Pangaea which was when the world was physically connected. Gala Porras-Kim (n. Bogotá, Colombia, 1984); Mi contribución es una imagen the Pangaea que fue cuando el mundo estaba conectado físicamente.
Recent exhibitions include 'Immortality' at @ural_biennial  curated by @xiaoyuxiaoyuxiaoyu and the Whitney Biennial at the @whitneymuseum curated by @rjkhckly and @janepanetta. Upcoming exhibitions include 'Asymptote towards an ambiguous horizon' at @kadistkadist curated by @oystercrackersandwiches.
GILDA MANTILLA (b. Los Angeles, USA, 1967) #GildaMantilla; In 2010 I started a period of research and work using archival material from the libraries of the Amazon city of Iquitos with my partner Raimond Chaves. Our aim has been to question the capacities of images associated with specific territories, make it possible to read them against the grain and associate them with new meanings. Recent exhibitions include 'EL Calor Derrite Los Estilos' at @centrocentrocibeles curated by @vtorrente63 and 'Nuevos Errores' at @bis_oficinadeproyectos.
HÉCTOR ZAMORA (b.Mexico City, Mexico, 1974) #HectorZamora, Pile of bricks. The image is the result of research carried out in Galicia, Spain, for the De / codification project carried out at the RAC Foundation. The photo was taken in 2016 at the CAMPO brick factory. Recent exhibitions include 'Dhaka Art Summit' @samdaniartfoundation curated by @dhakadiana and 'Walking Through Walls' at @gropiusbau curated by @sbardaouil and @till.fellrath. Upcoming exhibitions include 'Lattice Detour' at @metmuseum curated by #IriaCandela.
JUAN JOSÉ OLAVARRÍA (b. Venezuela, 1969) @j.j.olavarria.g; His practice is propelled by the past paradox as something that has not been able to close and at the same time is unrepeatable. Conscious of the performative aspect of remembrance and the irrepresentable condition of the memory, it does not pretend to restore them, but to show as contradictory processes. "No archive contains History: it only withholds -aided by a discoverer–the arbitrary story of its own creation, never announced; which is its own auto fabrication and the fabrication of possibilities of histories." Recent exhibitions include 'La locura más peligrosa de America' curated by @leticiaargus at Galería Municipal De Arte Pancho Fierro.
JUAN SORRENTINO (b. Chaco, Argentina, 1978) @juansorrentino; My work is based on inquisitive interactions with objects and materials through sound. While my materials and processes vary from project to project my methodology and formal concerns are consistent. Upcoming exhibitions include 'GABINETE DE CURIOSIDADES' at @fundacion_proa  curated by  @sigismonddevajay and 'SOLO SHOW' at @artebafundacion and @acefalagaleria curated by @sigismonddevajay.
LAURA LIMA (b. Governador Valadares, Brazil, 1971) @l_aura_l_ima; Glove, stamp-instructions for a drawing to be made on a hand: the pigmentation of a fabric woven on the skin made with ink, which can be redone every day. This stamp is a guide / inspiration for the drawing. Recent exhibitions include 'Qual' at @galerialuisastrina and 'Balé Literal' at @agentilcarioca. Upcoming exhibitions include 'Lost in Translation' at @agentilcarioca.
LEANDRO KATZ (b. Buenos Aires, 1938) @leandro.katz – Nightworks. Works made during the night, the Lunar Alphabet, and Labná Arch, explore the possibilities of photographic records through a system of producing long-term projects. The Lunar Alphabet builds a parallel between the lunar month and twenty-seven characters to create a night reading system. The Labná Arch uses the rare technique of open flash. The image is imparted on the negative by illuminating the scene with multiple firings from a portable flash following a previously calculated plan. Recent exhibitions include 'WORDS/MATTER' at @blantonmuseum curated by #BeverlyAdams and #FlorenciaBazzanoNelson and 'Viaje a la Luna: A to Z' at @cimagen curated by #ElenaNavarro and @schoolio. Upcoming exhibitions include 'Metropotamia' at @museodelcineba curated by #PaulaFelixDidier and #LeandroListorti
LEDA CATUNDA (b. São Paulo, 1961) @ledacatunda has appropriated objects and images and used them as raw material in her art making, simultaneously challenging and mirroring the image ravenousness of our time. Catunda is particularly interested in pop culture, consumerism, taste, and the idea of belonging. The artist creates paintings using multiple fabrics — velvet, silk, voile, to name a few — and patterned textiles, which already exist or may derive from her repertoire of drawings and images. Those fabrics are either layered, granting movement and tactility to the works, or used to upholster padded surfaces. Paint is applied as a sort of finishing touch, completing the process of conjuring up drops, cells, tongues, among other bodily shapes. Recent solo exhibitions include 'I Love You I Love You Baby' (2016) at @institutotomieothake curated by @paulomiyada and at 33ª Bienal de São Paulo @bienalsaopaulo curated by @sofiadborges. A current exhibition is 'FUERA DE SERIE: SEEBER CATUNDA' at @museomalba curated by @franciscolemus_.
LEONOR ANTUNES (b. Lisbon, Portugal, 1972) @leonorleonorantunes; having spent a lot of time in my studio in Berlin, these days with Olga my daughter who is 9 years old, we were thinking on how to create a celebration without the actual event… from the  Carnival in Brazil to "Tears" a photograph by Man Ray, where he uses glass pearls to symbolize the tears on the model's face. Olga is wearing her peacock eyelashes and her favorite stickers… Recent exhibitions include 'vides, intervales et joints' at @mudamlux curated by @suzanne_mcotter and a solo exhibition at @theboxplymouth curated by @nicolettalambertucci.
LETICIA RAMOS (b. Santo Antonio da Patrulha, Brazil, 1976) @leatomica is an art-scientist, a traveller who goes through the centuries revolving invention in ways of representing the world. From historical events and natural phenomenons, she builds  symbolic connections between politics, science and imagination where future and past  are crossed. In her precise investigation regarding analog photography, she uses sculpture , scale model and special effects to create imaginary landscapes, narratives and fabulations that are formalized in photography , film and installation.
LIA CHAIA (b. Sao Paulo, Brazil, 1978) @lia_chaia lives and works in São Paulo. She has a degree in Fine Arts from FAAP and in parallel studied dance and clown. His work moves through different languages, such as photography, video, performance and installation. She understands multidisciplinarity as a way of relating to the contemporary world and, in this sense, seeks to dissolve the boundaries between supports. Her research is developed in the investigation of the body and the environment, be it urban or natural. Recent exhibitions include 'Febril' at @galeriavermelho, 'É como dançar sobre a arquitetura' at @institutotomieohtake curated by @paulomyada, and 'Life, still life' at @galeriapresenca curated by @alexandremelo.
LUIS FLORES (b. West Covina, California, 1985) @papabearflo;In this moment I can't help but think about the immediacy of impact my actions have not only on myself, but everyone around me. The words "nothing happens in isolation", could not ring more true. It's all for you and me.
MARCELA CANTUÁRIA (b. Rio de Janeiro, Brazil) @marcelacantuaria; I believe in the power that the images carry to reinvent the present time. I do this in a conscious and intuitive, realistic and dreamlike way. Creating magical places with painting has been a solution that I found as a refuge from the dystopia we live in. Our generation depends on images to exist, they work like a compass. I am interested in creating compositions that flirt with new horizons, using painting as a device to fight the status quo. All the significant changes that have happened in history have gone through the imagination. I believe that painting, when it is based on facts and united with fantasy, can pre-figure new horizons of hope. There is something paradoxical about painting that attracts me a lot. It is about seeing color taking shape, shape earning meaning beyond the artistic place and finding themselves in the social, political and historical environment. All this reflective and silent movement of the painting always seems to be screaming.Recent exhibitions include 'La larga noche de los 500 años' at @agentilcarioca curated by @aldonesnino and 'Suturar Libertar' at @/cma.heliooiticica curated by @joycedelfim. An upcoming conversation is with @pollyquint for @apalavra.solta.
MARCELO CIPIS (b. Sao Paulo, Brazil, 1959) @cipismarcelo1; In this seal, we see a surrealist figure, an unpredictable being made up of a large head and tiny legs, devoid of a body. More than Deleuze's "body without organs", here we have a bodiless person looking for a heart, like the lion of the Wizard of Oz. In these very unusual times, it is important to think about our existence in a broader and deeper way. Being at home has become as real as being inside – that we can inhabit our bodies, our homes and care for one another.
MARIANA CASTILLO DEBALL(b. Mexico City, Mexico, 1975) @marianacastillodeball; @museoamparo
The first jigsaw puzzle was made from a map. This shows only a part of the wide production, dissemination, and use of maps by society. Mapping in the 16th century was a common, even a casually acquired skill. Each man made at least a single map in a lifetime. It seems to have been an accepted way to pay one's respect to one's home while contributing to the knowledge of it. Recent exhibitions include 'Replaying Life's Tape' at @mumamonash and @ace_open and 'Finding Oneself Outside' at @newmuseum. Upcoming exhibitions include 'Between making and knowing something' at @mao_gallery.
MARIO GARCIA TORRES (b. Monclova, Mexico, 1975) #MarioGarciaTorres; This is the sketch of a large fountain, to be presented for the first time early next year at the Museo de Arte Contemporáneo de Monterrey. The sculpture depicts a fantasy moment of a 120 meter-long metal hose, which is connected to a faucet inside the gallery and ends in a small drain at the museum's outside patio. This is the third version of the series that extends the years long artist's dialogue with the practice of the late artist Alighiero Boetti. This one makes reference to the last self-portrait by the italian artist tituled Mi Fuma il Cervello where he is depicted holding a hose.
Recent exhibitions include 'Illusion Brought Me Here' at @Weils_Brussels and @walkerartcenter curated by #CarolineDumalin. Upcoming exhibitions include a solo show @museomarco curated by @taiyanapimentel.
MATEO LOPEZ Recent exhibitions include 'The Gardeners' at @proyectosultravioleta and 'This might be a place for hummingbirds' at #GalerieImKornerpark curated by #CaglaIlk and #AntjeWeitzel.
MINERVA CUEVAS (b. Mexico City, Mexico, 1975) @micadust; June Almeida was the first to identify the human coronavirus in 1964. "Feisty and lacking formal education, she was largely forgotten –until Covid-19 came along. But the daughter of a Glasgow bus driver is still playing a major role in the fight against coronavirus, nearly 13 years after her death. June Almeida, the virologist who discovered the first human coronavirus, has been hailed as "one of the greatest scientists of her generation". Recent exhibitions include 'No Room To Play' at @daad_artists and 'Disidencia' at @mishkingallery curated by #GabrielBogossian #SolangeFarkas and #AlainaClaireFeldman. Upcoming exhibitions include 'Witch Hunt' at @hammer_museum curated by @cornelia.butler and @anneellegood.
ORIOL VILANOVA By rummaging through flea markets, Oriol Vilanova's (b. Manresa, Spain, 1980) @oriolvilanova favorite places for research, he built up a collection of postcards to create a "thinking machine" that provides the conceptual foundations for his plays, installations and performances. Recent exhibitions include 'Our world is burning' at @palaisdetokyo curated by @curating_world and @fabiendanesi and 'Anything, everything' at @albrightknox curated by @tinariversryan. Upcoming exhibitions include 'Chinese Whispers #10' at @meessendeclercq and 'Cabinet13' at @machornu.
PAULO BRUSCKY (n. Recife, Brasil, 1949) @paulobruscky; A virulência da Arte é maior do que a solidão do Corona Vírus. Paulo Bruscky, 2020. // The virulence of Art is greater than the loneliness from the Coronavirus. Paulo Bruscky, 2020. Recent exhibitions include 'Eteceterate' at @fundacionluisseoane and 'The Gallery will be Fumigated of Art' at @richardsaltoungallery.
PROA 21 Recent exhibitions include 'The Gardeners' at @proyectosultravioleta and 'This might be a place for hummingbirds' at #GalerieImKornerpark curated by #CaglaIlk and #AntjeWeitzel.
REGINA JOSE GALINDO (b. Guatemala City, Guatemala, 1974) @galindoreginajose; WE ARE ALIVE in the midst of the crisis we repeat it as a mantra we shout it to the four winds, we are still alive. Recent exhibitions include 'The Gardeners' at @proyectosultravioleta and 'This might be a place for hummingbirds' at #GalerieImKornerpark curated by #CaglaIlk and #AntjeWeitzel.
SANTIAGO SIERRA (b. Madrid, Spain, 1966) @estudiosantiagosierra Revisiting and refiguring certain strategies characterising the Minimalist, Conceptual and Performance Art of the 1960s and 70s, Sierra interrupts flows of capital and goods; he hires labourers to reveal their precarious circumstances; he explores the mechanisms of racial segregation derived from economic inequalities; and refutes the stories that legitimate a democracy based on state violence. Recent exhibitions include 'LATEST WORKS' at @galeriahelgadealvear and '52 CANVASES EXPOSED TO THE AIR OF MEXICO CITY' at @l_a_b_o_r.
SILVANA PESTANA (b. Lima, Peru, 1967) @silvanapestanastudio; work developed around the social phenomena that exists because of extractive capitalism among Peru's territory. Her research core are activities such as illegal mining, to then reflect on the human cost of such practices. Extractive capitalism as state policy on a territory whose population has been ruled ancestrally under different definitions of exchange (and community). Recent exhibitions include 'Mother of Go(l)d' at @ginsberggaleria curated by @GustavoBuntinx and 'Underworld' at @ginsberggaleria curated by @JeromeSans.
STEFAN BRUGGEMANN (b. Mexico City, Mexico, 1975) @stefanbruggemann; the work generates a doubt. Recent exhibitions include: 'Extra!' at @centrepompidou and 'Headlines and Last Lines in the Movies (Guernica).'
TERESA SOLAR (b. Madrid, Spain, 1985) @tere_solar works across sculpture, video, drawing and photography. The artist's imaginary has a strong narrative drive, in her exhibition projects she creates complex worlds that either draw from literary works of fiction, Natural History or more terrestrial narratives that are close to her personal story. The daughter of a Spanish father and an Egyptian mother, Solar speaks Arabic, but she can't read or write it, and this circumstance has greatly imbued her work, in which everything is a game with transit, language and its changing translation processes. The cultural and linguistic implications of her dual identity are palpable in her work as she constantly explores the transformation of matter, her objects constituting a hybrid between the manmade, the natural and the mythical.Recent exhibitions include 'Forms of fleeing' at @travesiacuatro and 'Flotation Line' at @institutkunst curated by @the_chus_martinez. Upcoming exhibitions include @liverpoolbiennial curated by @many_moscoso.
VIVIAN CACCURI. Brazilian artist, lives and works in Rio de Janeiro. Vivian Caccuri (b. São Paulo, 1986) @viviancaccuri experiences sound in unusual compositions that disorient the conventional arrangement of everyday experiments. Sound systems, microphones, speakers, mosquitoes, nets, lamps and candles are some of the elements present in her installations and performances, which move visible and invisible, audible and inaudible layers. Vivian uses thinning tools, her music connects temporal dimensions that dig the space. Weight, volume and balance – dear to sculptural questions – embody the author's experiments and creations, which vary in scale, from the quietest mosquito noise to highly vociferous productions. Recent exhibitions include 'The Fever Hand' at @serpentinegalleries curated by @lpietroiusti and @filipaaaaaaaaaa and 'Mosquitos Also Cry' at @labiennaledivenezia curated by @theaaroncezar and @rugoffralph. Upcoming exhibitions include 'Mosquito Shrine III' at @icamiami curated by @alexgartenfeld.
WYNNIE MYNERVA (b. Lima, Peru, 1993) @wynnie_mynerva; I grew up in Villa el Salvador, a district in the south of Lima, with sexual landscapes of violence. I come from a neighborhood where prostitution was a common occupation of entire families. Prostitution associated with unhealthy and violent conditions of forced labor. I always work from my memories, maybe the strength that everyone perceives in my works is nothing more than fear seeking to be redeemed. And it is this fear that lately seeks to rejoice in kinder landscapes, perhaps some changes have been drawn there. Recent exhibitions include 'A Garden of Earthly Delights' at @museoamano and 'Sex Machine' at @ginsberggaleria. Upcoming exhibitions include a solo show @otraferiadearte.
ZONA MACO (Monterrey, México, 2002) @zonamaco; is an art fair platform, which includes ZONAMACO México Arte Contemporáneo, ZsONAMACO Diseño, ZsONAMACO Salón and ZsONAMACO Foto, being the most important in Latin America.
ZsONAMACO 2020 brought together 72,000 visitors and gathered more than 210 exhibitors from 26 different countries. Parallel to this, a wide range of conversations were presented in the conference program, and different acquisition awards were given. Art and photography books were presented at ZsONAMACO Libros and a VIP and parallel activities program took place in different points of the city.
To view/download each artist stamp, please click in its respective image
RADIO CULTURA FM 97.9
Mejor te cuento
por Alicia Arteaga
Entrevista a Sandra Antelo-Suárez, Adriana Rosenberg presidenta de PROA y Manuela Otero